Province and Destinations
---
Perugia (493m s./m.)
Since many years a very important cultural centre, Perugia is a tourist resort of artistic interest with prehistoric Umbri origins further depelopped by the the Etruscans and ater by the Roman Empire.

Assisi (424m s./m.)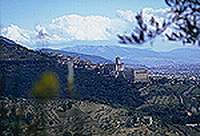 In the green Umbria Valley the ample area between Assisi and Spoleto has a unique landscape characterized by a mystic and remote atmosphere. Natural beauties with fascinating villages full of history, art and traditions.

Città della Pieve (508m s./m.)
Perched on a greeny hilltop, Città della Pieve is located by the Umbria border with Tuscany, over-looking Lake Trasimeno and the enchanting Val di Chiana countryside.

Città di Castello, Tiber Valley (288m s./m.)
The Tiber valley draws its name from the river crossing Umbria from north to south featuring beautiful landscapes and green hills. The most famous tourist resorts are: Città di Castello, Deruta, Todi and Orvieto.

Gubbio (500m s./m.)
Gubbio and its surroundings are located in East Umbria, a charming area with valleys and hills and lot of greenery. Many little medieval towns offer a rich heritage of history, art and tradition.

Passignano, Lake Trasimeno (304m s./m.)
Lake Trasimeno is the fourth largest Italian Lake. On its three sides, beautiful hills rich with olive trees and quiet villages make a wonderful scenery: Castiglione del Lago, Città della Pieve and Passignano sul Trasimeno.

Terni (130m s./m.)
Situated in the heart of a hilly area in the green region of Umbria, Terni is a quite modern town, which however keeps several traces of its history, from the roman period to the Middle Ages up to the Popes domination.